Cabinet approves improvements in street cleaning, roads and pavements as part of Havering Council's budget plans
Budget plans for major improvements in street cleaning and road repairs, along with investment in better leisure facilities and school places, were approved by Havering Council's Cabinet, last night.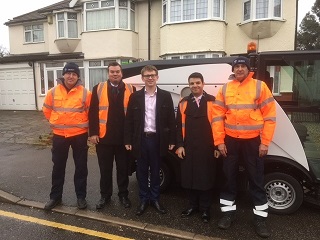 The plans, which were the focus of a Cabinet meeting last night Wednesday (13 February 2019), will also see nearly £150 million pumped into building more genuinely affordable housing and other neighbourhood improvements.
This comes on top of a separate £10 million that has been earmarked to improve housing estates.
Council tax is proposed to rise by 3.25 per cent, the bulk of which will be used to meet rising costs of providing care and support for residents who are more vulnerable which includes senior citizens, people with disabilities and young people who are deemed at risk.
The rise is lower than the maximum 4.99 per cent allowed by Government which many councils in the UK are expected to adopt. It will mean that Havering's share of council tax for the average Band D property will increase by less than £1 a week from £1363.83 to £1408.15.
Budget headlines include:
more than £10 million a year to improve roads and pavements as part of a £30 million package over four years with aspirations for a further £10 million to be added in later years
an extra £400,000 for street cleaning which will see the frequency in residential streets increased from once every three weeks to fortnightly
£18.8 million for more school places
£11.9 million to improve leisure facilities. A new leisure centre is due to open in Hornchurch next year, while the Sapphire Ice and Leisure Centre in Romford has just marked its first anniversary
£250,000 to improve community safety through better CCTV
nearly £150 million as the next instalment of the council's ambitious regeneration plans which will see more genuinely affordable housing built and other neighbourhood improvements
weekly refuse collection will be retained
From the housing budget there is also a plan to spend £10million improving housing estates.
Councillor Damian White, the Leader of Havering Council said: "This is a budget that responds to and acts on the issues that matter to our community the most. It is a budget that will see major improvements in roads, pavements and street cleaning while continuing to invest in services for people who are more vulnerable.
"It is an ambitious budget that will bring significant improvements to all parts of the borough with investment in neighbourhoods, job creation and more genuinely affordable housing."
If approved by Full Council on February 27, the budget will see £13.2 million saved in 2019/20 rising to a total of £40.4 million by 2022/23 in order to balance the budget. The council is becoming more efficient in the way that it delivers services to reduce costs and keep council tax increases to the minimum.
Other initiatives include:
consulting with residents on extending controlled parking in residential areas
bringing level of council tax support in line with other London boroughs
increasing council tax surcharge on properties that have been empty for 2 years or more from 50 per cent to 100 per cent
reducing the number of buildings that the council owns by bringing more services together under one roof
increasing car parking charges to make a contribution towards the cost of improving roads and pavements
making changes in youth services so that we can work more closely with disadvantaged groups
For more details, view Havering Council's Budget Report