Councillor Clarence Barrett dies aged 61
Havering Council is extremely sad to confirm the death of Councillor Clarence Barrett.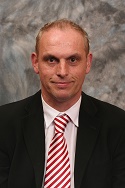 Cllr Barrett, Leader of the Upminster and Cranham Residents' Group, has represented the Cranham ward continuously since his election in 2006.
He was Cabinet Member for Finance in the previous administration between 2014 and 2018.
In addition to his duties at the Council, Cllr Barrett was also elected treasurer to the Independent Group within the national Local Government Association.
Cllr Barrett collapsed while attending a meeting at Havering Town Hall on Friday 15 February. Council staff and paramedics treated him at the Town Hall, following which he was taken by ambulance to hospital.
Councillor Damian White, Leader of the Council, said:
"I am shocked and deeply saddened to learn of Clarence's death. Clarence was a committed public servant who served his residents with passion and duty. His challenge, drive, decision making and scrutiny, whether in Cabinet or in opposition, made this Council better for his service.
"On behalf of all Members, I want to convey our deepest sympathies and most solemn respect to his family and friends."