Havering Music School jazzes up the weekend
Council-run Havering Music School was joined by members of the National Youth Jazz Orchestra for a free musical extravaganza at the weekend.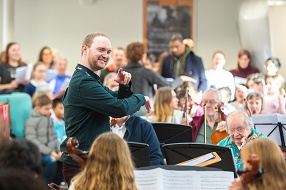 The music school hosted a workshop at its Saturday Music Centre, based at Havering Sixth Form College in Hornchurch, which was open to students and their families, tutors and members of local (adult) choirs and ensembles.
As well as the workshop, students and members of the National Youth Jazz Orchestra performed a piece of music called Coming to Life, especially written for this event by Andrew Linham, a former student who is now a tutor and director of the music school's stage band.
Councillor Viddy Persaud, Cabinet Member for Culture, said:
"It's inspiring for our young people to play alongside such highly skilled musicians. Providing opportunities for them to learn and perform together, is an essential part of the music school's programme.
"Andrew Linham's piece of music is just one example of what the students can go on to achieve."