Action brings results against unlicensed waste carriers
Havering Council has carried out on-the-spot enforcement action to crack down on unlicensed waste carriers.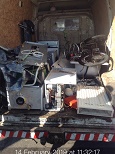 In a recent operation, the Council's enforcement officers issued a fixed penalty notice of £300 for one driver who failed to produce the correct document that details the transfer of waste from one person to another.
It comes as the Council reiterates the warning to residents to ensure they check the person or company they pay to get rid of unwanted items.
Another example of recent action saw a resident, who had not made the necessary checks about the waste carrier they used, fined over £700 for failing in their duty of care to dispose of waste correctly.
Also, anyone caught dropping litter by Council enforcement officers or the police, face an immediate £80 fine.
Councillor Osman Dervish, Cabinet Member for Environment, said:
"If you are paying someone to get rid of your rubbish, you must check if the person or company is a licensed waste carrier. If the price they are charging sounds too good to be true, then it most probably is.
"If you fail to carry out the checks, it could result in prosecution if the waste becomes fly tipping. The responsibility is on the person who pays for the waste to be disposed of.
"We will also be continuing to take action on those waste carriers who don't have the correct licences. Fly tipping costs us in Havering approximately £1m each year to deal with and we won't tolerate it."
Recent figures by DEFRA (Department for Environment, Food and Rural Affairs) show Havering in the top five of London boroughs carrying out enforcement action against fly tipping.