Council launches £40m investment campaign for roads and pavements
Havering Council has launched a new campaign, ploughing £40 million into improving the borough's roads and pavements.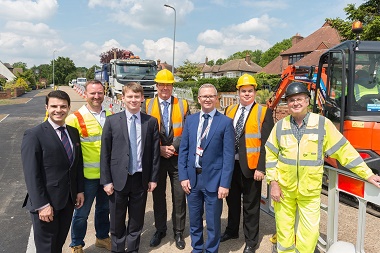 Leader of Havering Council, Councillor Damian White, officially launched the new programme of works at an event in The Mount, Noak Hill Road, Romford, yesterday (20 May 2019).
The £40m investment will be used to resurface and repave the borough's worst roads and pavements.
Over the next four years the Council will also be fixing hundreds of potholes, making residents journeys better.
At the official launch, Councillor White was joined by Councillor Robert Benham, Deputy Leader, Councillor Osman Dervish, Cabinet Member for Environment and Andrew Blake-Herbert, Chief Executive of the Council.
Also attending was Bryn Jelliss, Highways Engineer for Havering Council, along with Roger Cricks and Matt Revell from Marlborough, the highways maintenance company that is carrying out the work on behalf of the Council.
The campaign will see a new web page www.havering.gov.uk/betterjourneys where residents can find out when their road or pavement is being repaired or resurfaced, can report potholes and get updated information on when and where road works are taking place.
Cllr White said:
"We are extremely pleased to be investing £40m in our roads and pavements. Residents told us they were worried about the quality of roads and pavements, we listened and we are acting upon those concerns.
"We are investing in a programme of works where residents will be able to enjoy the results, making it easier and smoother for them to get around the borough, see the pavements outside of their homes looking smart and safe to walk on and making them prouder of where they live.
"Also, as part of the works programme, we will fix potholes, which we know is another concern for residents. We undertake repairs of around 1,000 potholes per year. We want to encourage residents to report these to us.
"Fixing the borough's roads and pavements is a top priority to residents and it is a top priority for us as a Council. This investment will help us achieve a Cleaner, Safer, Prouder Havering, Together."