Investors and developers flock to Havering
'We are open for business' was the overriding message from Havering's Leader to more than 120 investors and developers at an event in Romford.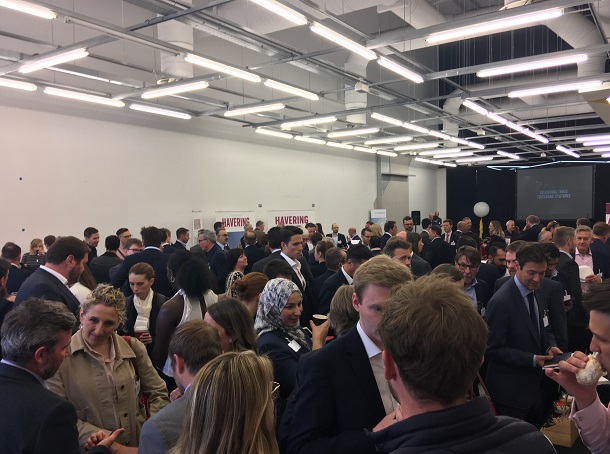 They were there to hear about the opportunities on offer in the borough and why they should choose Havering for future development and investment.
Councillor White said, "Havering is in a unique position and well connected, being so close to London and Essex, the Port of Tilbury, the M25, C2C and with the Cross Rail extension due in 2021.
We are already embarking on major regeneration creating homes and opportunities for our residents. We also have ambitious plans for improving the supporting infrastructure including a new north/south transport link to open up the borough further.
"This is why we think it is an exciting time for people to come and see how we are open for business."
The event featured a morning of speeches from Senior Council Officers including the Chief Executive Andrew Blake-Herbert, representatives of Havering's three joint venture partners; Wates Residential for the 12 Estates programme, First Base/Savills for the Bridge Close, Romford, and Notting Hill Genesis for the Rainham and Beam Park programme.
The three JVs currently represent more than £3bn investment over the next 12-15 years, delivering over 7618 homes, 37 per cent affordable, of which 65 per cent is social/affordable rent.
Delegates also heard from Macreanor Lavington architects and Make:Good public consultation specialists, who lead on the Romford Masterplan for the Council and are currently finalising the proposals based on extensive consultations with stakeholders and the public.
Segro, based in Rainham who own, develop and manage warehouse and industrial properties across the UK and Europe, spoke from a commercial perspective and explained why Havering was an easy choice for them.
Andrew Blake-Herbert, Chief Executive of Havering Council, also spoke about how the Council's planning department help with the planning process to improving the success of regeneration plans.
Havering's Planning team offer a specialist, bespoke service for large, complex development proposals specifically to help identify any issues and work through them in a collaborative way.
The aim is to help speed up the planning application process, and provide investors, developers and their professional teams a greater level of certainty following the submission of a planning application, with the emphasis on developing a structured timetable and negotiated solutions.
To demonstrate the commitment to place-making and the existing level of investment, Havering Council's Planning Team is significantly expanding to meet the future demands.
Neil Stubbings, Director of Regeneration, who is overseeing the Council's affordable housing plans, said: "Our vision is ambitious and designed to create interest among investors and developers as well as excitement among local people.
"Outer London is increasingly becoming a focus for new development and our guests will be in no doubt - whether it is Rainham, Hornchurch, Romford, Upminster, Harold Hill, Elm Park or Collier Row – the opportunity to succeed is here in Havering."