Council reduces unhealthy packed lunch consumption by 300,000
Pupils at Engayne School, Upminster celebrate Veggie Run's first anniversary.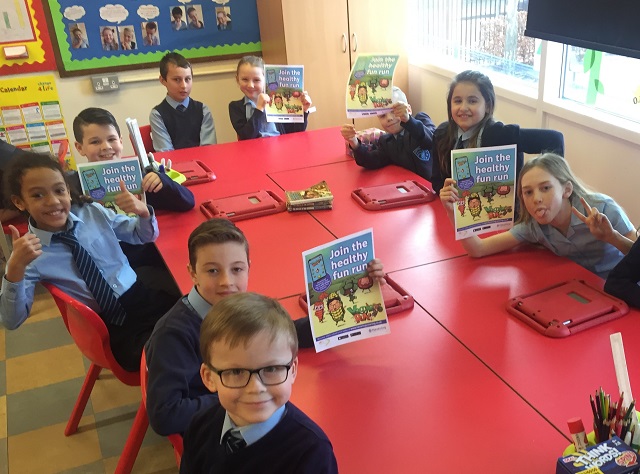 Veggie Run, Havering Council's first of its kind healthy eating app, is celebrating its first birthday.
The innovative app, was introduced into schools in Havering last year and has reduced unhealthy packed lunch consumption across the borough over the past 12 months by over 300,000.
It also won the Veg City Champion of London award at the Urban Food Awards at City Hall earlier this year.
The unique healthy living initiative combines an innovative educational app which teaches pupils to dodge unhealthy foods, rewards them with sporty prizes and links with the in-school healthy eating catered programme.
To celebrate its first birthday and to mark the campaign's first year achievements, a special Veggie Run lunch was held with pupils at Engayne Primary School in Upminster.
Havering Council launched Veggie Run last year to reduce the consumption of lunchboxes and tackle childhood obesity as the London School Food plan showed only 1.6 per cent of packed lunches met the Government standards for healthy meals.
The programme has made a valuable contribution to the Council's and education sector's efforts to address childhood obesity by increasing and sustaining the uptake of healthy-catered school meals by 14 percent.
Veggie Run was designed to encourage four-to-11 –year-old pupils to make healthy eating choices, and has been downloaded over 22,000 times, and gained celebrity sports endorsement from West Ham United premiership football players.
Councillor Robert Benham, Havering's cabinet member for Education, Children and Families, said:
"The Veggie Run healthy living programme for children has achieved outstanding results across our London borough in only 12 months.
"Children became more aware of eating healthier meals, as a result of the app, as well as the highly recognisable Veggie Run character branding on menus and in dining halls. They have also been motivated by the health-based competitions and collaborations with sports partners such as West Ham.
"Veggie Run has nudged pupils towards healthier choices as the increased uptake means the number of packed lunches being consumed decreased by approximately 300,000 over the year. This means a higher percentage of children are now consuming lunches that meet the government standards for healthy school food."
Evidence has also showed children and parents are making healthier choices, as demand for Quorn foods increased by 58 per cent during 2018 compared to 2017; similarly, fruit and vegetable spend increased by 6 per cent for the same period as more children ate from their school's free unlimited salad bar.
You can get Veggie Run from the Apple or Google Play stores.