Avelon Road Centre bowls a strike with skittle art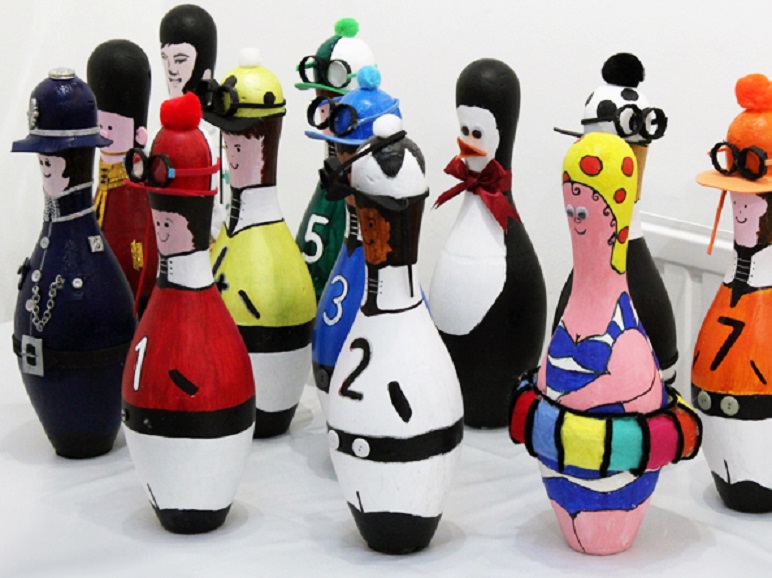 Adults with learning disabilities at the Avelon Road Centre have been recycling bowling skittles into works of art as part of the centre's arts and crafts activities.
The creations come in all shapes and sizes, with Daleks, Elvis Presley, horse jockeys and penguins joining the roster. The project began after staff recycled disused bowling skittles in storage at the centre and decided to use them as a canvas for decorating. Each skittle uses only recycled fabrics, beads, foam and other materials in an array of creative ways.
The Avelon Road Centre, run by Havering Council, offers creative activities and experiences for adults with learning disabilities, and over the last six months adults of varying abilities, supported by staff, have created a whole squad of skittle characters.
Activities like these have been helping the adults with learning disabilities learn new skills, develop existing ones and improve social inclusion. The skittles have also proved popular with the public; many characters have been sold at para arts exhibitions and more than a dozen personalised orders have been commissioned.
Avelon Road Centre are now taking on a new challenge – a 2D life size version of the Mayor of Havering. The bowling skittle frame has been designed, created and provided by Jerram Falkus Construction LTD who have kindly supported this community project and has been decorated entirely with recycled materials at the centre. The Mayor of Havering skittle is due to go on display with the collection of skittles at Havering Town Hall this week.
The next step will involve more life-size skittles representing community champions - police, nurses, and others who make the borough a safe place to live.
Councillor Jason Frost, Cabinet Member for Adult Social Care, said: "It's wonderful to highlight projects like these as they make such a big difference to the lives of people who use the centre.
"The inventive use of resources to create such valuable experiences and high quality art really demonstrates the outstanding work being undertaken at Avelon Road Centre."