Town Hall installation sets backdrop for Poppy Appeal launch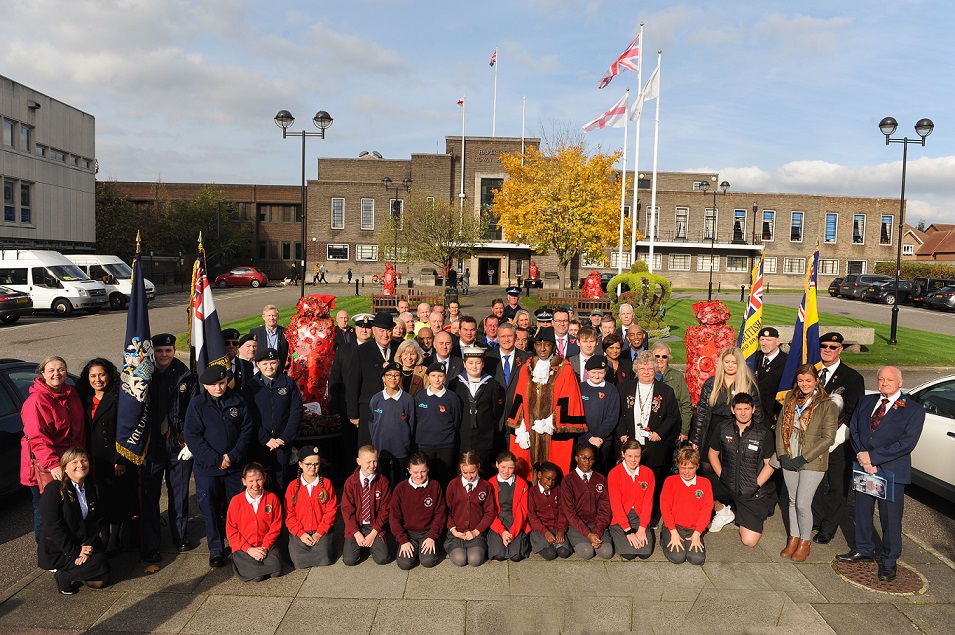 Havering's Poppy Appeal has been launched at the Town Hall for the first time with the unveiling of a poignant poppy installation created by Havering Council, schools, and local community groups.
The unique art project involves six wire sculptures of soldiers, which have been covered in handcrafted poppies, in all shapes and sizes, and placed in blankets of red flowers lining the entrance to the Town Hall.
Local schools have been getting involved, with Redden Court School, Whybridge Infant School, St Alban's School, Parklands Junior School, RJ Mitchell School and the Hornchurch Sea Cadets all creating and donating poppies.
The installation was arranged by the Council's Events Team, working in partnership with the Havering's Grounds Maintenance Team Staff. Council staff from many other departments have also given up their free time to help weave poppies into the wire soldiers.
Centres run by the Council have rallied to complete the installation. Avelon Road Centre, a day centre for adults with learning disabilities, have shown their support by making poppies. Meanwhile, children's centres around the borough have been producing poppies, created from recycled plastic bottles, donated by Sapphire Ice & Leisure.
Councillor Michael Deon Burton, Mayor of Havering, said:
"On behalf of Havering Council I would like to offer my sincere thanks to all poppy sellers in our borough for the work they do in raising large sums of money for the Royal British Legion.
"I would also like to thank everybody who has worked to make this incredible display possible. It is a poignant reminder that the local community are passionate about commemorating those who died fighting for the freedom of our country"
The installation is on display outside of the town hall until 13 November. Members of the public are invited to place their own poppies, available to purchase from the Town Hall reception, on the bottom of the installations and pay their respects.
Remembrance Sunday parades across the borough will take place on 10 November.