Pupils celebrate being on the Veggie Run
Sixty delighted Key Stage Two (KS2) pupils have won a £160 voucher to spend at Halfords on a brand new bike of their choice.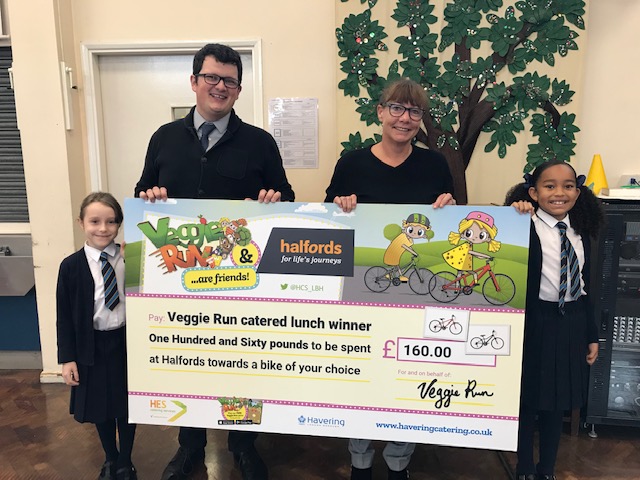 The lucky winners won the incredible Veggie Run bike competition from the Council's award-winning Havering Catering Services after eating healthy catered school lunches.

Veggie Run, the popular healthy living scheme, aimed at four-to-11- year-olds also awarded six Havering schools with free class activity days plus transport to the largest outdoor activity centre in the Southeast, Stubbers Adventure Centre.
St Joseph's, Ardleigh Green, Broadford, Crownfield Juniors, Mead, and St Patrick's primary schools have all achieved outstanding uptake of healthy catered school meals since the beginning of the autumn school term.

The top ten pupils on the Veggie Run app leader board at the beginning of half term also successfully won one weeks' worth of free catered lunches to enjoy during the winter months.

The Veggie Run family roast dinner box competition has also been incredibly popular amongst pupils and families, as they provide a great opportunity for children to develop their healthy cooking skills at home.
Each week a different pupil will continue to be awarded a family roast dinner box worth £25 if they have enjoyed a catered lunch in school that week.

Councillor Robert Benham, Cabinet Member for Education, Children and Families, said:

"Havering aims to support all children to have to the best start in life, and by awarding 60 pupils with new bikes through Veggie Run we are able make sporting activities more easily accessible and provide 180 pupils with an amazing outdoor experience at Stubbers."
"At the beginning of the autumn term, Havering Catering Services launched a range of competitions to encourage more schools, pupils and families to get involved in Veggie Run. Evidence from The London Food Plan sadly highlighted that only one percent of packed lunches meet the government's standards for healthy meals, but the Council's Veggie Run has reduced unhealthy packed lunch consumption by more than 300,000."