South Essex Crematorium raises £8,000 for hospice charity
The Mayor of Havering, Councillor Michael Deon Burton, joined staff from the Council's bereavement service, in presenting a cheque for £8,000 raised by South Essex Crematorium's specialised metals recycling scheme.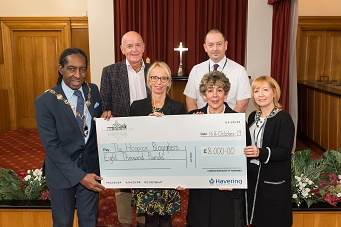 With permission from families, metals recovered from cremations are recycled and all the money raised is given to bereavement-related charities that will help local communities across the borough.
The Mayor said:
"We're very thankful to all the families who give permission for us to recover metals such as titanium so we can recycle them and through the scheme, help to provide valuable support to local residents and charities."
This year, the funds have been donated to The Hospice Biographers, a nationwide charity that trains and mentors a growing network of specialist volunteers known as 'Hospice Biographers' to record on audio the life stories of patients in hospices who are facing the end of their lives.
The recordings are for patients to record memories and messages in the way they want, to leave for their families and friends after they have passed on.
Barbara Altounyan, founder and Chief Executive for The Hospice Biographers, said: "The life story recordings are for the benefit of hospice patients facing the end of their lives. They are made using broadcast quality equipment enabling families to hear their loved one's voice sharing cherished memories for generations to come."
The specialist recycling scheme that is used by the cemeteries and crematorium services, is run by the Institute of Cemetery and Crematorium Management (ICCM).