Regeneration project helps residents back into work
Havering Volunteer Centre's Stepping Stones Lunch and Learn programme has celebrated a hugely successful year, with over half of its attendees now in full-time employment.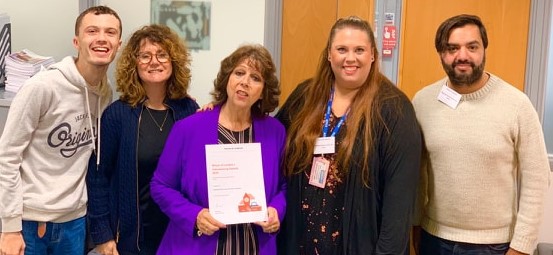 The programme worked with 50 attendees over the last 12 months to deliver 7,500 hours of training, 20 mini-workshops and 50 one-to-one sessions, with 27 attendees now employed as a result. It has helped residents, the majority of whom are living at homeless hostels and women's refuges, improve their confidence and skills to prepare them for the world of work.
The Council is working with national developer Wates Residential, to deliver 3,500 new homes over the next 12 to 15 years in one of the capital's biggest regeneration project. The £11,500 funding for Stepping Stones came from Wates Giving, following a grant application from the Joint Venture partner.
Participants on the Stepping Stones Lunch and Learn programme have taken part in sessions including confidence building, mental health and wellbeing, CV updating and preparing for an interview. Some have even gone on to continue their education to further enhance their career prospects, with 15 securing employment. Every participant also volunteered, putting their new qualifications to good use, and some have continued since completing the programme.
Individuals suffering from mental ill-health, ex-offenders and other vulnerable adults living in Havering are among those who have benefited from a 'stepping stone' back into work.
Julie, a volunteer at Havering Volunteer Centre who took part in the Stepping Stones Lunch and Learn programme, said:
"I took part in a three-month course on understanding mental health in January 2019. Some of the modules were on depression, bi-polar and dementia, but also included understanding mental health, stress and anxiety. I learnt a lot from the course, and we were taught tips on things like coping mechanisms, which I now use in my daily life.

"I did find the course stressful at times and wanted to drop out, but I am so glad I saw it through, obtaining a Level 2 qualification in mental health means so much to me, especially when I have bi-polar myself. I received so much encouragement to complete it from the Stepping Stones Lunch and Learn programme, the Havering Volunteer Centre, family and friends.
"The Havering Volunteer Centre brings loads of great benefits to the local area, volunteers work together which helps self-esteem, and builds friendships and a feeling of belonging in the area."
Another participant and lifelong Havering resident, Alan, 68, volunteers at the WDP Havering, offering support and advice to people struggling with drug and alcohol problems. Between October and December 2019, Alan attended a Level 2 counselling skills course at the Havering Volunteering Centre next door to where he volunteers.
Commenting on his recent counselling course, Alan said:
"The Havering Volunteer Centre was second to none – I'm grateful for what I've done and what I've achieved. I wish I had done it years ago.
"It has been great to use what I've learnt to help other people in Havering through my volunteering. The counselling course has given me a different approach and a better understanding of people's issues. I use the knowledge that I've learnt to try and bring out the best in people."
The Stepping Stones Lunch and Learn programme was recently recognised as a runner up, from a pool of 300 nominees, in the 'Improving Life Chances Award' at the Mayor of London's Team London Volunteering Awards in October.
Kate Ives, Development Director for Wates Residential, said:
"As part of our work in Havering, Wates Residential has committed to leaving a lasting legacy in the borough through training and employment programmes. We are so pleased to have supported Stepping Stones throughout 2019 and I'm looking forward to continuing to deliver on our commitments this year."
Leader of Havering Council, Councillor Damian White, said:
"Regeneration can lead to real change for residents, and I'm proud that the Stepping Stones project has been able to help a number of vulnerable residents to improve their skills and confidence.
"Over half of the attendees are now in full-time work, with others in further education and volunteering roles. I would like to thank the team at the Havering Volunteer Centre, and Wates Giving for making this possible."
Anyone wishing to enrol onto the Stepping Stones Lunch and Learn project can contact 01708 922214 or volunteering@haveringvc.org.uk. Please do also get in touch if you would like to volunteer.