Havering works together to provide much needed supplies to vulnerable residents
With the ongoing significant human impact of the Coronavirus crisis, Havering Council has been working tirelessly with partner organisations to set up Havering's Emergency Food Distribution Centre.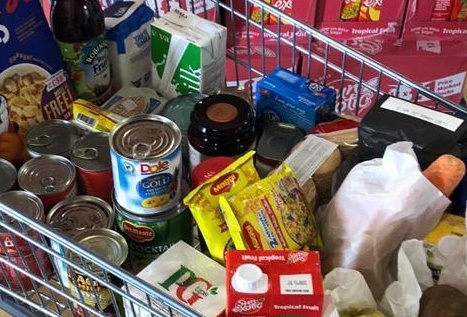 As part of the £4.5m financial package announced last week by Havering Council, this borough-wide approach will ensure a supply of food and basic household items will be delivered to our most vulnerable residents that are self-isolating and have no one else to help them.
Recently the NHS identified 1.5million people who are at high risk from the virus and have requested that they safely isolate at home, as they are more likely to need to be hospitalised if infected.
In Havering, 3,600 have been identified within this category of extremely vulnerable people and 2,000 of those have registered for food support.
The Council has cross-referenced this NHS list with our own Adult Social Care records.
We are also working with Havering Volunteer Centre (HVC) and food banks to map out the families they are helping across the borough, compiling a comprehensive list of people that need support and ensure that no one is forgotten.
The Food Distribution Centre supplies each part of the chain with the vital goods they need to support all residents across the borough that are expected to need support in the coming weeks.
People who have concerns about care or urgent issues around health and wellbeing or lack to access to supplies including food and medicines are urged to call our Covid 19 helpline on 0800 368 5201 or email covid19support@havering.gov.uk.
The Council is working in partnership with our leisure centre provider SLM, Havering Food Banks, Trussell Trust in Harold Hill and Rainham and HVC to coordinate and distribute food to people with urgent needs across the borough.
The Council has pledged over £400,000 to secure food supplies and household items at the Distribution Centre plus £29,000 for staffing.
It has also provided over £30,000 worth of emergency food to scale up HVC's volunteering efforts, allowing larger numbers of residents to help them provide supplies for vulnerable people in their community.
The Council's entire Passenger Transport team has also been deployed to support the Council's food distribution effort. This service is now delivering supplies to people's houses and to food banks across the borough.
Councillor Damian White, Leader of the Council, said:
"Although the current impact of Covid19 on national food supplies remains minimal, we have all seen first-hand the impact of panic-buying and the steps that our supermarkets have taken in order to cope with demand.
"By setting up the Food Distribution Centre, the Council is helping charities and community organisations to scale up their response to the crisis, allowing more residents to volunteer to support the most vulnerable in their communities.
"I am extremely proud of the speed by which the Council and our voluntary sector partners have responded to the crisis, setting up a system that will make a significant positive contribution to the way Havering copes with Covid 19.
"The tireless dedication of staff and volunteers to support our most vulnerable residents and the way in which we have been able to coordinate across the public, private and voluntary sectors to identify the challenges we face, is truly impressive.
"It makes me, as a Havering resident, feel incredibly inspired and reassured to know that the people that need this support can rely on us to give it to them."
Shelley Hart, CEO of Havering Volunteer Centre, said:
"We have been inundated with requests to volunteer, as well as calls for help, fielding over 3000 calls since late March and looking after over 450 Havering families and individuals so far.
"The emergency financial support we have received from the Council, including the creation of the Food Distribution Centre and supply chain is helping our volunteers to focus our efforts where it is most needed."
The true impact for vulnerable residents of the work the HVC and the food banks are doing, with the support of the Council, can be seen in some of the messages of thanks we have received. One recently said:
"I thought I should record my immense gratitude to you all at the HVC for the great work you are doing. I live in Bristol but have a 92 year old sister with type 1 diabetes living in Elm Park for whom I normally do an online shop every other week.
"Regrettably and frankly infuriatingly, I cannot get a delivery slot for her but was referred to you by my sister and retired parish priest, Father Joe Farrell.
"My relief and thanks will be reflected in a donation we will be making to your wonderful organisation later today.
"God Bless you all, keep up the good work and please, please stay safe."