Railway request brings cheer to resident
The family of Havering resident David Middleton have thanked Havering Council for allowing him to enjoy a ride on the miniature locomotive in Lodge Farm Park this week.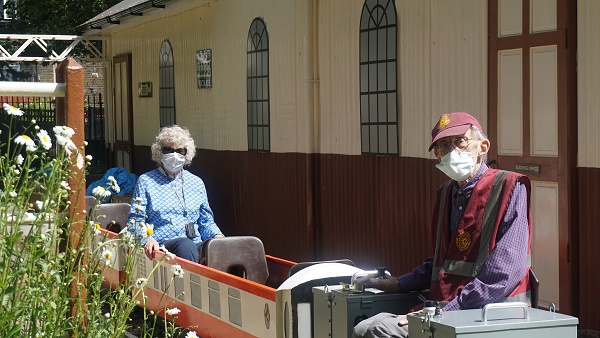 A special request was made by his family for Mr Middleton, who is terminally ill, to take a short ride on the miniature railway with help from the Council's park team who ensured social distancing measures were in place.
Mr Middleton who along with his son Paul, are among the founding members of the Havering Miniature Railway Club, purchased two large locomotives and is part-share holder in two others which helped the railway get established.
In February this year, Mr Middleton, who is a big railway enthusiast, donated £5,000 to the club, which was used to carry out works on reducing a hill on the track, making it easier for the trains to run over. This work was ongoing but had to be halted due to the Covid19 pandemic.
Paul Middleton, said: "Dad is very weak but the trip around the miniature railway really gave him and all of us a boost. We're very glad for the Council's support to let him and my mum do this.
"In March, he turned 80 but like many people especially those with health issues, this is the only time he has left the house during the pandemic and it was a real tonic for him with what he is going through. So thank you."
Councillor Damian White, Leader of Havering Council, said: "Lodge Farm Park's Miniature Railway is a real asset to our borough and the volunteers at Havering's Miniature Railway Club have done incredible work.
"David Middleton has been key in the running and maintenance of the railway and it was our pleasure to see him take to the track again during what is a very difficult time for him and his family."