Historic Romford Market set to reopen from coronavirus lockdown
Romford Market is set to reopen this week after being forced to close due to the coronavirus outbreak.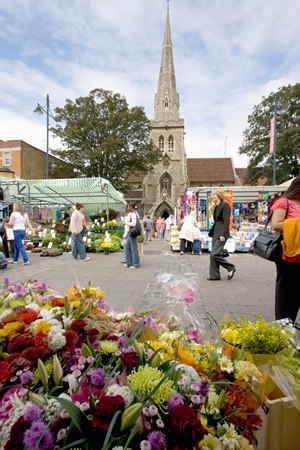 Havering Council announced today that the popular market, which usually sees thousands of shoppers all year round, would finally reopen on Wednesday 3 June 2020.
The reopening will commence in two phases, as food stalls open up on the Wednesday, with the remaining stalls returning on Friday 5 June 2020.
This gradual process will enable the Council and stallholders to ensure special social distancing measures are in place to protect both shoppers and traders from Covid 19.
Shoppers are reminded to keep a 2-metre distance to anyone outside their household, and will be expected to exercise patience and courtesy to fellow shoppers and traders.
Those who are showing any Covid 19 symptoms should still isolate at home for 14 days.
To help with social distancing, the Council has painted markers on the ground reminding shoppers of the 2-metre distance.
Councillor Damian White, Leader of Havering Council, said:
"Romford market is the heart and soul of Romford. It is what makes Romford so unique and special and I am delighted to be able to welcome traders back to our historic market.
"The market place is ideal to shop locally, whilst observing social distancing, outside, and I would encourage everyone to pay them a visit.
"Over the longer term, we will be working with the traders' association to help improve Romford market through investment and additional trading days."
During this lockdown period, the Market Place car park has been free to use. Drivers are reminded that the car park is inaccessible on Market Days (Wednesday, Friday and Saturday). For non-market days, drivers should refer to the on-street signs if unsure on restrictions.
Further information on the disruption of Council services, as well as advice and support for anyone affected by coronavirus, can be found on our coronavirus page.