Plans approved for retirement village as part of £1bn regeneration project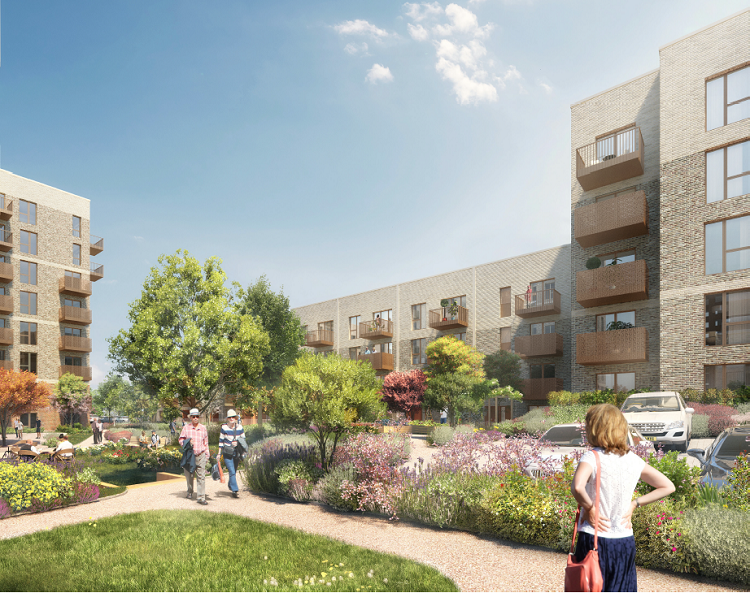 Major step forward for Havering Council and Wates Residential's 12 estates regeneration project.
Plans have been approved on the second site of a £1 billion housing regeneration scheme in London, marking a significant step forward for the flagship home building programme.
Joint venture partners Havering Council and Wates Residential submitted plans for a modern retirement village at the Solar, Serena and Sunrise House site in Hornchurch in November 2019.
On 25 June, the plans were agreed at a virtual Strategic Planning Committee meeting.
The plans will now be considered by the Mayor of London before the final decision is issued.
The former Solar, Serena and Sunrise Courts site in south Hornchurch, previously provided sheltered accommodation for local residents and will now be redeveloped to provide 175 high quality homes.
All of the new homes will be designed to fully meet the needs and aspirations of local people who are approaching, or who have reached, retirement age.
80 of the new homes will be for affordable rent, with the remainder split between shared ownership and open market sale.
The scheme has been specifically designed to bring people together, with the aim of tackling social isolation and ensuring that residents can stay active and healthy for longer.
Plans include communal facilities such as a residents' lounge and a treatment studio for health and wellness, which may be used by council support services, GPs or other NHS services to provide on-site support for some residents' routine healthcare needs.
There will also be flexible storage space for either bicycles or mobility scooters and all homes will also befit from solar PV panels to help keep service charges at an affordable cost for local people.
The site is one of 12 included in the '12 Estates' regeneration programme, which will see around 3,500 homes delivered by the joint venture partners in Havering over the next 12 to 15 years.
The £1 billion programme will seek to double the amount of council rented accommodation and more than double the number of affordable housing.
Havering is London's greenest borough and creating even more high quality green areas has been a key priority for the joint venture partners.
As a result, plans extend to a garden area with distinct zones that encourage a range of activities, such as relaxation, lawn games, and a community growing area for accessible gardening.
A social area will also enable residents to socialise in a safe, welcome and attractive space.
The plans were subject to extensive public consultation, with more than 600 one-to-one meetings with local residents and businesses taking place across the wider regeneration project.
Phase one of the 12 Estates project began in July 2019 with the demolition of Napier and New Plymouth House in Rainham.
In addition to the retirement village at Solar, Serena and Sunrise Courts, the Waterloo Estate in Romford was also submitted for planning in June 2020.
As part of the project, Havering Council and Wates Residential have pledged to deliver a borough-wide legacy by investing in education, training and skills opportunities, and by employing local businesses to work on the scheme.
This includes a commitment to invest a minimum of 10 per cent of the total regeneration programme in contracts with local businesses, valued at over £100m.
Some of these benefits are already being realised, including four Meet the Buyer events held to date for local suppliers to learn about contract opportunities.
Local business, Downwell Demolition, was awarded the contract to undertake controlled demolition at the Solar, Serena and Sunrise Courts site and Rainham-based Kilnbridge Construction Services was appointed to dismantle two tower blocks at Napier and New Plymouth House.
Councillor Damian White, Leader of Havering Council, said:
"As we cross yet another milestone and work gathers speed on these developments, I am excited to see how our plans to create high quality homes for local people are progressing.
"Our impressive proposals mean that our new retirement village will allow our older Havering residents to live fulfilling, independent lives in a state-of-the-art community, and to also access the holistic support they might need in later life."
Kate Ives, Development Director for Wates Residential, said:
"Securing approval to regenerate the Solar, Serena and Sunrise Courts site is fantastic news and marks another key step in our partnership with Havering Council to deliver thousands of new homes for local people, as well as new community investment, employment and training opportunities.
"We believe that everyone deserves a great place to live so we are delighted to be bringing forward much-needed, modern homes for retirement living to support the future of Havering and to meet the needs and aspirations of local people. We look forward to progressing work on site, which is due to commence later in the year."