Super Sundays at Romford Market
Havering's historic Romford Market will open on Sundays for the first time in recent memory, with new stalls and a wider variety for shoppers, starting from this Sunday 19 July.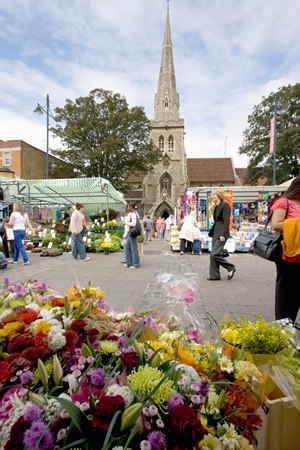 Havering Council's decision to trial Sunday opening follows the successful reopening for Romford Market from the coronavirus lockdown, which saw shoppers safely return to the market with special safety and social distancing measures in place.
The Market, which has been a staple for Romford shoppers in some form for centuries, already opens to the public on Wednesdays, Fridays and Saturdays, selling a wide variety of wares including clothing, toys and gadgets, sweets, home furnishings, and technology, as well as a great selection of world-wide street cuisine.
It was recently announced that Dagenham Sunday Market would not be reopening from the lockdown, and over 20 new traders have already signed up to join Romford Market as a result.
The Council has been exploring options for opening Romford Market on a Sunday for some time.
A recent survey of market shoppers indicated that 83 per cent were in favour of Sunday market.
Councillor Damian White, Leader of Havering Council, said:
"Romford Market is the jewel in the crown for Romford, so I am excited that we can open this historic location on Sundays.
"Given its outdoor setting and the already successful social distancing measures we have put in place, Romford Market is the perfect place for people to continue to shop locally and support small businesses, whilst staying safe and Covid-secure.
"The new Sunday opening hours will make it easier for local shoppers to visit the market in their free time, providing a much-needed boost to both existing and new traders, as well as the surrounding shops and venues."
The decision to open on a Sunday is part of Havering Council's ongoing support for businesses in the borough, especially during this challenging time. In addition to processing over £30m in government grant money to businesses, the Council has worked with businesses to ensure the high streets can reopen safely.
From Monday 3 August, all Council-owned car parks and "stop and shop" on-street parking bays will be free of charge every Sunday – including the Town Hall and Angel Way car parks close to Romford Market.