Construction phase begins on London's £1.5bn regeneration project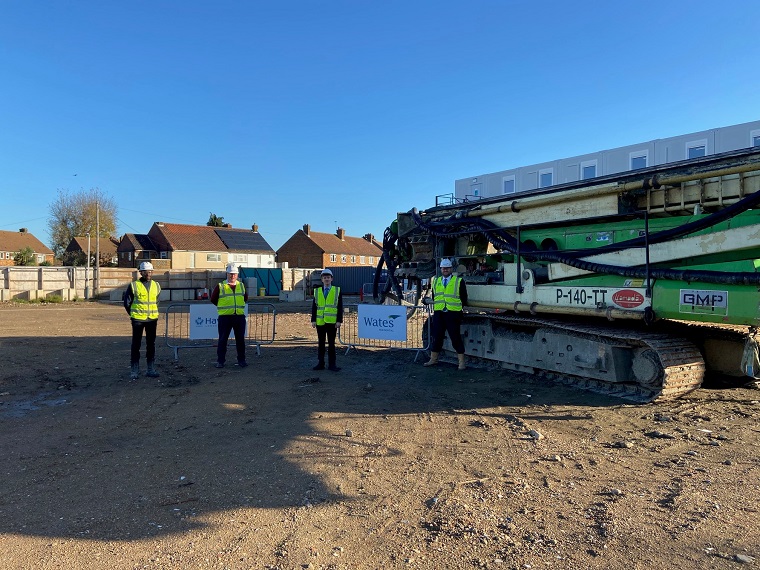 The construction phase on the first site of one of the biggest regeneration projects in London has begun.
Havering Council and Wates Residential celebrated the start of construction at the Napier and New Plymouth House site in Rainham, Havering, with a visit to the site before the national lockdown came into force to take delivery of key construction equipment.
The Leader of Havering Council, Cllr Damian White, was joined by Wates Residential's Regional Development Director, Hugh Jeffery, and members of the developer's construction site management team.
The site, which completed demolition in February, is one of 12 included in the joint venture's '12 Estates' regeneration programme.
The programme will see around 3,500 high-quality new homes delivered in Havering over the next 12 to 15 years.
The £1.5 billion project will seek to double the amount of council rented accommodation and more than double the number of affordable homes for local people.
The plans for the Napier and New Plymouth House site have been designed to meet high demand for affordable housing across the borough and include 197 high-quality, council-rented and mix of affordable housing properties which local people can be proud to call home.
All residents who have been moved off the site to enable the regeneration have been guaranteed the right to return to the brand-new properties.
As part of the project, Havering Council and Wates Residential have pledged to deliver a borough-wide legacy by investing in education, training and skills opportunities, and by employing local businesses to work on the scheme.
The joint venture is also committed to buying British, wherever possible.
Through the Napier and New Plymouth House site alone, the partners have already invested more than £1.3 million in the Havering community.

This includes the recent donation of a new children's book, commissioned by Wates Residential, designed to inspire young people to see construction as a career of choice.
Emma Juhasz's 'What Do Construction Workers Do?' was presented to pupils at La Salette Primary School in Rainham, Towers Infant and Towers Junior Schools in Hornchurch and Crowlands Primary School in Romford in October.
Since work began at the Napier and New Plymouth site in July 2019, 40 local people have also been hired or have benefitted from training initiatives supported by the joint venture partners, as part of their commitment to boosting the local economy.
Councillor Damian White, Leader of Havering Council, commented:
"I am excited to have reached this point in the programme that means we will soon see high-quality, affordable homes for local people.
"There has been an immense amount of dedication and hard work to get us to this point, and I very much look forward to the building phase commencing and seeing these new homes take shape.
"However, this regeneration programme is not just about replacing and improving estates across the borough with new, fit for the future homes.
"We are hugely ambitious for Havering and our residents, by making sure that local people and businesses are at the heart of our joint venture, we can make sure they benefit through education, employment and skills training, and contracts being awarded locally.
"I am proud to be working with Wates Residential, as a partner who share this Council's ambition to buy British and help this country on our journey to recovery from Covid 19 and grasp all opportunities in a post-Brexit world."
Kate Ives, Development Director for Wates Residential, said:
"We are celebrating a significant milestone for the 12 Estates project as we finish demolition and move onto the construction phase at Napier and New Plymouth House.
"Wates Residential is now another step closer to delivering 3,500 high-quality homes for residents in Havering."