On track with road and pavement repairs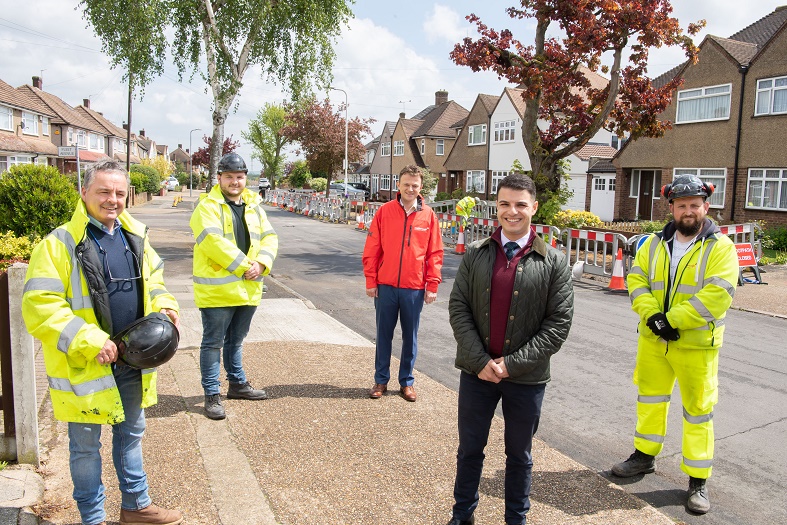 Over 35 miles of roads and 25 miles of pavements have been improved and repaired since Havering Council launched its £40m highways investment programme.
In 2019, the Council listened to residents who said a priority for them was to see pavements and roads improved.
The Council then committed to ploughing £10 million a year over four years, to invest into these works across the borough.
The aim is to make it easier and smoother for residents to get around the borough.
Also, to see the pavements outside of their homes looking smart and safe to walk on, plus making them prouder of where they live.
The Council is working in partnership with Marlborough Highways.
This is the highways maintenance company carrying out the work on behalf of the Council.
So far, the programme has seen:
35 miles of roads and 25 miles pavements repaired and improved so far
Over 2,000 calls on road and pavement issues responded to
970 defects including broken pavement slabs repaired between January and April 2021
359 potholes filled and repaired between January and April 2021
Works have been allowed to continue under government guidelines during the Covid 19 pandemic.
This meant that frontline NHS and other key workers plus residents who had to make essential journeys, could get around the borough safely.
Councillor Osman Dervish, Havering's Cabinet Member for Environment, said:
"Residents told us they were concerned about the quality of roads and pavements.
"We listened and the investment has seen a huge improvement across the borough.
"There is still work to do but the programme is continuing to provide residents with better roads and pavements.
"With the easing of lockdown restrictions continuing and there are more people out in the borough making journeys.
"We hope that everyone enjoys the improvements they see on our roads and pavements."
Marlborough Highways have also employed local residents.
They have been working on some of the 200 general maintenance schemes within the programme.
Material to carry out resurfacing, is also often purchased from local businesses in the borough.
Roger Cricks, Contract Director for Marlborough Highways, said:
"We're delighted with the improvements made within Havering so far.
"Marlborough has a great relationship with Havering Council.
"We work in partnership with them on their Highways Investment programme.
"Providing both road resurfacing works and pavement maintenance schemes.
"We've dedicated a lot of resources to ensure we can meet the ongoing demands of Havering Council for the benefit of residents."