Pothole repairs gather pace
Havering Council is fixing hundreds of potholes every month – with over 3,500 potholes repaired year on year.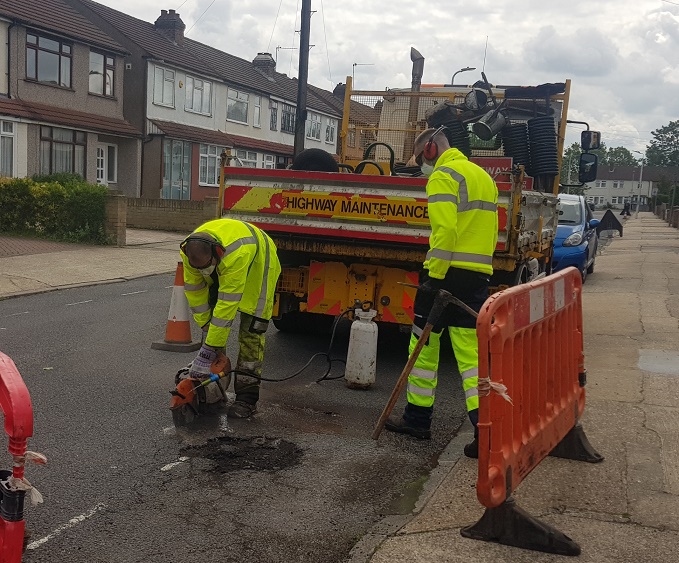 Nearly 400 potholes were fixed between January and April this year alone, by Marlborough Highways, as part of the Council's highways investment programme.
This programme has seen the Council invest £10m a year over four years.
This is to improve the borough's roads and pavements after residents said it was a priority for them in 2019.
Over the last year - Council staff have continued to work tirelessly to ensure the borough's roads and pavements were kept up to scratch.
This has meant quicker and safer journeys for Havering's NHS heroes and other key workers during the pandemic.
Councillor Osman Dervish, Havering's Cabinet Member for Environment, said:
"We know potholes are a bugbear to our residents and for all of us.
"We are investing £10m a year over four years to repair and resurface our roads and pavements overall.
"The filling in of potholes is also a huge and essential part of the ongoing work that is carried out
"Between ourselves and Marlborough Highways, we repair thousands of potholes per year.
"We encourage residents to continue to report them and we will look to respond, fix them and do the necessary repairs to make our roads safe.
"We know that fixing our borough's roads and pavements, including reducing the number of potholes is really important to residents.
"We have listened to them and our roads and pavements remain a top priority for Havering."
Pothole repairs are carried out following individual inspections by the Council's highways maintenance team.
This is alongside those identified from reports from residents.
Potholes are generally caused when water breaks through tiny cracks in the road.
This makes surfaces weaker and this is then made worse by continuing traffic on top.
Weather conditions also play a big part in causing potholes and it is important that materials used, can look to play a part in the longevity of that repair.
Amongst the materials used is bituminous tar, adding aggregate or limestone.
Havering has the second largest highways network in London.
As the investment programme continues with more roads being resurfaced, it will help towards reducing the number of potholes.