Proposal for new homes in Romford gets green light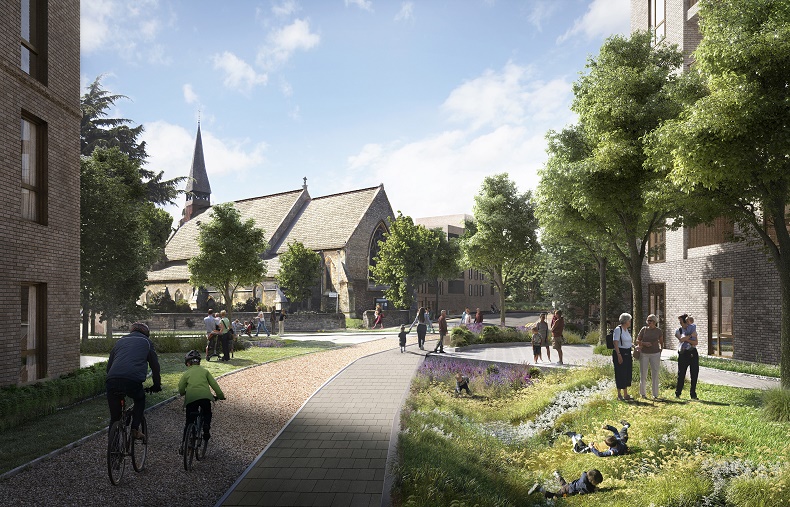 Proposals for 1,380 new homes at Waterloo and Queen Street in the heart of Romford have been approved by Havering Council's Strategic Planning Committee.
The plans to bring the creation of an exciting new community for local people is one step closer.
It includes over 550 affordable homes for local people, in the form of 1, 2, 3 and 4 bedroom homes built from high-quality and traditional building materials, more than doubling the number of council rented homes currently on the site and in addition providing 146 low cost home ownership opportunities.
In all, this means a trebling of the affordable housing currently on the existing estate.
At the heart of the scheme is high quality public open space, with a village garden, 159 trees, bat and bird boxes, bug hotels and all buildings will enjoy green and brown roofs.
The scheme forms part of Havering Council's '12 Estates' regeneration programme with Joint Venture partners Wates Residential.
Seeking to double the amount of council accommodation and more than double the number of affordable homes, the £1.5 billion programme will see at least 3,500 high-quality new homes delivered in Havering over the next 12 to 15 years.
Wates Residential is part of leading privately-owned construction, property services and development company.
The Wates Group, and alongside Havering Council has made a commitment to buy British wherever possible, with 20 per cent of the Joint Venture's spend going to local Small and Medium Enterprises, valued at £100m.
The Joint Venture partners are also working to increase education, skills and training opportunities in Havering by working with local schools and colleges.
At Waterloo and Queen Street there will be at least one new apprentice and four work experience placements for local people.
Councillor Roger Ramsey, Cabinet Member for Finance and Property, said:
"The approval of these plans is a major milestone in delivering local homes for local people.
"Waterloo and Queen Street sits in the heart of Romford, where a new high-quality community will be created for residents of Havering to live and thrive.
"What's more, this scheme will result in significant social, economic and environmental benefits to the surrounding area, with millions of pounds being invested in buying British through local businesses to create new opportunities for people in the area".
Hugh Jeffery, Regional Development Director for Wates Residential, said:
"The vote to approve the proposals for Waterloo and Queen Street means we can look forward to building great places for people to live.
"This scheme includes modern, energy efficient homes, open green spaces for playing and relaxing, and workspaces to promote flexible ways of living and working.
"This project is about leaving a lasting legacy for people in Havering and now the scheme is one step closer we look forward to starting construction at the beginning of next year".
Since its inception in 2018, the Havering and Wates Joint Venture has secured planning on both Napier and New Plymouth House in Rainham and Solar Serena Sunrise in Hornchurch.
Construction of Napier and New Plymouth House is well underway with the first homes ready for occupation in 2022.
So far, £28m of social value investment has been generated in the local area, with 241 people benefiting from employment and training initiatives and 1,859 students supported by education activities.