Pupils celebrate A-level success
Hundreds of pupils across the borough received their A-level results today (10 August 2021) for the second year in a row without sitting their exams.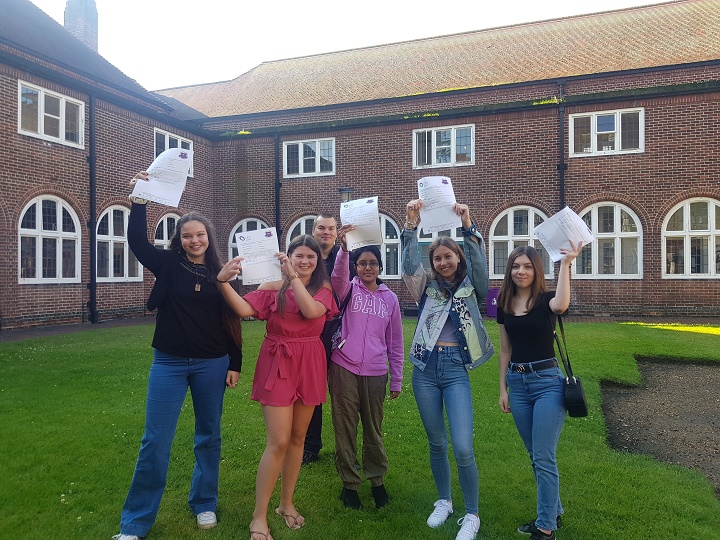 The continued pandemic meant that pupils' grades were assessed by teachers and according to the work they had done over the past year.
They were given the grades they were likely to have received if they had sat their exams.
The results were then further assessed by the exam governing body Ofqual.
Councillor Robert Benham, Havering's Cabinet Member for Education, Children and Families, said:
"It felt like a little of the old excitement returned to A-level results day today, as some pupils were able to gather to celebrate and support each other in person.
"Huge congratulations go out to everyone who achieved the grades they were looking for.
"This will help them take that next step into education, work, apprenticeships and training.
"We also appreciate that for some it will also be a sad day, and many schools have set up surgeries to support pupils who didn't receive the grades they wanted.
"These will help them to look at what options are available to them as well as offer some moral support."
Pupils received their results via email or after arriving at their schools from 8.30am this morning.
At Frances Bardsley Academy for Girls, in Romford, we met up with students including Emma, Syeda, and Bethany, who were celebrating their success.
Emma said: "So happy with my A's in Psychology, History, Religious Studies and B in EPQ (Extended Project Qualification). I'm excited at planning for university now.
"It has been a difficult year, but makes the hard work and seeing the results all worth it."
Bethany said: "Just so pleased. I have three A* in Psychology, Sociology and Maths. I will be studying psychology at Kings College London."
Also off to Kings College London to study Psychology, is Syeda, she said:
"I am really really happy, as I got 3 A* in Psychology, English Literature and Sociology and look forward to studying for my degree now."
The Department for Education has once again decided not to publish a breakdown of pupils achievements to take away the added strain of the "league table" comparisons.
David Turrell, Joint Headteacher, Frances Bardsley Academy for Girls, said:
"We're incredibly proud of all our students and staff. They have worked really hard under some very difficult circumstances.
"It has been hard for us all with the pandemic, but they have shown grit, resilience and a spirit as a school community in working together.
"We're delighted with the results and congratulate each and every one of the students."