Students celebrate GCSE results day
Most GCSE pupils across Havering today received their exam results via email for the second year in a row after the coronavirus pandemic stopped them from sitting their exams.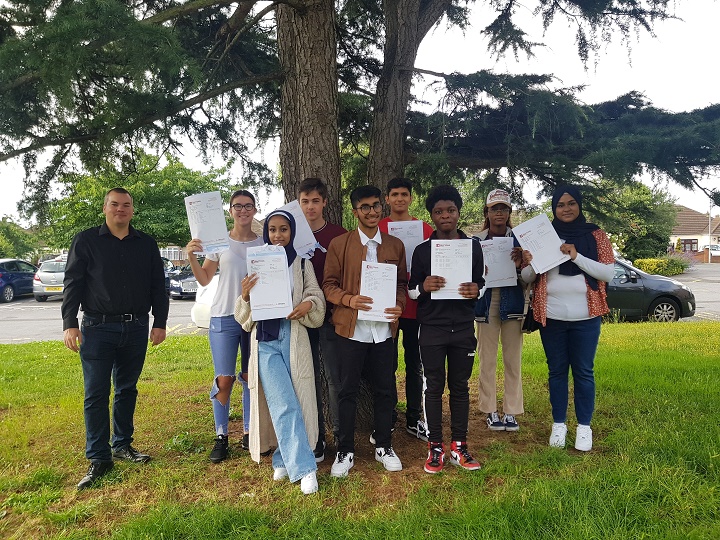 Thousands of pupils were on standby early this morning to receive an email telling them about their GCSE grades.
They would have received these based on teacher assessment and what they have been taught over the past year.
However, some pupils at The Brittons Academy, Rainham, were delighted to be able to receive their results in person.
Joining them were Councillor Robert Benham, Havering's Cabinet Member for Education, Children and Families.
He said: "It has been a really difficult and disruptive year for pupils.
"They have worked really hard to juggle the demands of studying at home for long periods with coping with social isolation.
"They therefore need to be congratulated on many levels for their achievements.
"I know this will be a time of great celebration for some.
"But a disappointing time for those who didn't receive the grades they had hoped for. However, I wish our pupils well for the future."
Happy faces and smiles were the order of the day, as pupils at the Rainham school celebrated.
Thasiba Ahmed, Brittons Academy Head Girl, achieved 4 Grade 9s in Maths, Biology, History and Geography.
She also achieved 4 Grade 8s in Chemistry, Physics, English Language and Religious Studies and a Grade 7 in English Literature.
She said: "I am very happy. I feel my hard work has been reflected in my grades.
"Our teachers have been so supportive and without them, it would have been a lot more difficult in this past year, they were there for us."
Thasiba now plans to study A Levels in History, Biology, Chemistry and Maths at Brampton Manor.
Aariz Khan achieved 3 Grade 9s in English Literature, Geography and Biology,.
He also achieved 4 Grade 8s in English Language, Maths, Religious Studies and Chemistry and 2 Grade 7s in Physics and Computer Science.
He said: "I'm really delighted and while a lot of our learning has been online, teachers made it fun and helped us to work hard.
"I'm excited to go on to study further; my dream is to go into a career in medicine."
He is also off to Brampton Manor Academy to study Biology, Chemistry, Maths and Psychology.
Will Thompson, Brittons Academy Principal, said: "We are immensely proud of the achievements of all our students.
"Supported by their families and our incredible staff here, they overcame all the disruptions and difficulties of the past 18 months to obtain these qualifications.
"All can look to progress on to further education and study and we are very excited about what they will accomplish in the future."
Pupils who didn't achieve the grades they'd wanted, can speak to someone at their school about the next steps.
For help and further information pupils can visit the gov.uk website for careers advice.
You can also visit the Facebook page for the National Careers Service for advice and helpline details.