New kitchen and funding for Havering Association for People with Disabilities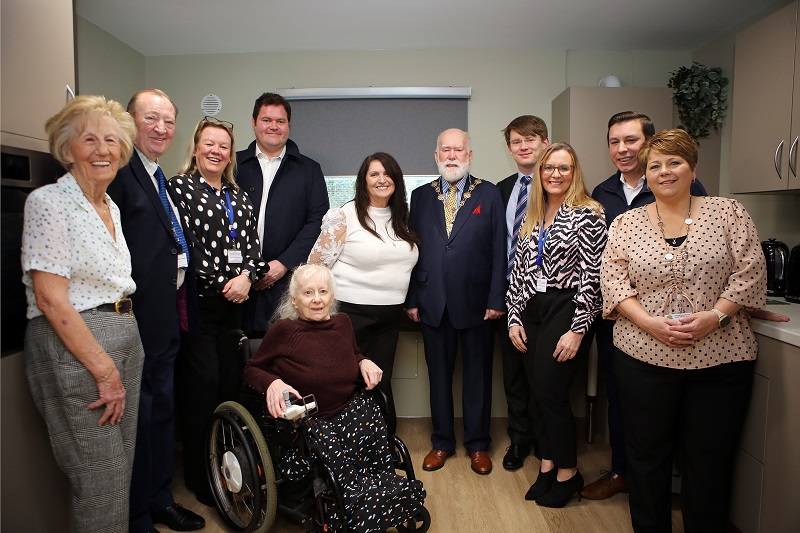 The Havering Association for People with Disabilities (HAD) is celebrating the completion of a new kitchen, thanks to a total refurbishment by Havering Council and Wates Residential.
Councillor John Mylod, Mayor of Havering Council and Councillor Damian White, Leader of Havering Council, opened the new facility, alongside Wates and local businesses who donated labour and resources to the project, at an event on 16 February.
The kitchen fit-out forms part of a comprehensive social value programme being delivered by the joint venture as it regenerates 12 council estates across the borough to provide 3,500 high quality, affordable homes for local people.
Total community benefits for the first phase of the scheme are expected to be worth around £6.8 million.
The project with HAD was led by Wates employee and Hornchurch local Dan Harrison, who attended Crowlands Primary School and Havering Sixth Form College.
As an Assistant Surveyor on Wates' Graduate Apprenticeship Programme, Dan coordinated delivery, working with local subcontractors to rip out and refit the kitchen, which was previously dated, damaged and unrepairable.
Dan said: "The new kitchen will create a safe, social space for adults with sensory and physical disabilities living in Havering to enjoy food, create friendships and receive advice for living independently.
"It was such a rewarding project to help a local organisation like HAD in a practical way that will help them support so many local people."
The opening of the kitchen follows a successful bid for funding from Havering Council by HAD that will enable the charity to continue providing its service over the next five years.
Councillor Damian White, Leader of Havering Council, said:
"This is a fantastic example of the wider benefits to our 12 Estates regeneration programme, and the commitment we have to support the local community.
"It has been delivered by a Havering resident, for a local charity, which supports local people.
"I can't think of a better example of social value in action and I am so pleased to see first-hand the difference this will make to the valuable work that the HAD do."
Vikki Clarke, Community Inclusion Officer at HAD, said:
"A kitchen is at the heart of any gathering and what a fabulous space we now have.
"It is a bright, spacious, welcoming room, with brand new appliances and so much more storage.
"This means we can now plan for small group cooking activities, promoting healthy eating and supporting our clients' independence.
"We also plan to provide breakfast and lunchtime clubs to encourage those living alone to eat with others, to increase social inclusion and create new friendship circles."
Keith Ward, Project Director at Wates Residential, said:
"We are committed to delivering a borough-wide positive legacy in Havering, with a social value programme that is bespoke to the needs of the local area.
"This project is a perfect example of that, a new facility that will not only improve the lives of residents who need it most, but that has also been delivered by local businesses.
"The support that HAD provides to people living with disabilities is critical and we hope that this kitchen provides a welcome boost to the service that they are able to offer."
HAD provides information, advice and support, as well as clubs, classes and activities to support wellbeing and social inclusion for those living with disabilities in Havering.