Members of Havering Youth Parliament
Members of Youth Parliament 2018/20
Emily Thompson
"I would firstly like to congratulate the other candidates for all their hard throughout the campaign and also congratulate Sila who I look forward to working with over the next two years. It is a privilege to represent the Youth of Havering and I'm excited entering into this new role".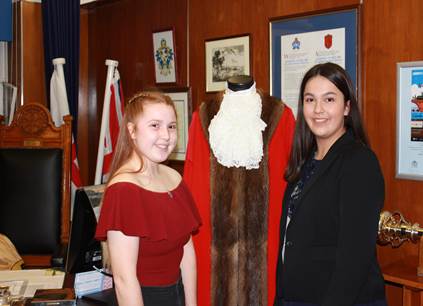 From left to right Emily Thompson and Sila Urgulu.
Sila Urgulu
"I want to congratulate all the candidates on their very hard work and I am grateful for this opportunity. I'm really looking forward to this new experience and working together with other MYP's and Emily"
Havering will open applications for Members of Youth Parliament in October.
Young people aged 11 – 18 years of age, who live or study in Havering can apply.
Applications forms will be in schools, MyPlace Centre and other sites.
Please email participation@havering.gov.uk to express your interest and access an application form or complete the online application.
Elected Members will take up their 2 year term as of the 1st March 2020.
To find more information on the UK Youth Parliament please visit the website.