Bridge Close Regeneration Project

Bridge Close is a dated industrial area close to Romford station and lies within the Romford ring road.
It is bounded by Waterloo Road and Oldchurch Road.
The station is served by the newest tube service, the Elizabeth Line.
There is significant demand for additional housing in the borough particularly in a location like this one that is close to excellent public transport connections, shopping and leisure facilities.
Romford is also one of the busiest outer London shopping centres in the capital.
In April 2018 we established a joint venture development vehicle with private sector partners.
However in 2020, due to uncertainties around delays to the Elizabeth Line, private sector funding, and compounded by the Covid 19 pandemic, we stepped in to provide the funding needed to deliver the scheme.
The proposals will provide up to 1,011 new homes alongside a primary school and health services, as well as community and business space.
There will be a mix of private and affordable homes.
The scheme will also provide public realm improvements, better access around Romford for pedestrians and cyclists as well as a revitalised River Rom with a new bridge crossing.
We are committed to delivering benefits to the local community through affordable high quality, energy-efficient housing fit for the future, new and improved communal and commercial spaces, and much-needed infrastructure and public realm improvements.
As with all new homes developed through Council regeneration schemes, these new homes will be offered to local people first.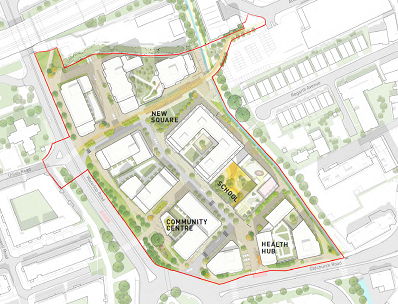 Social value
Our regeneration programme is not just about what we are building. It is also about what we can achieve indirectly for the local community.
This is what we call the 'social value' of our partnerships.
Find out more about social value in Havering
If you have a query or would like more information regarding this project, please contact us at regeneration@havering.gov.uk