Beam Parkway consultation
The London Borough of Havering has secured £4.5m of funding from the Mayor of London and £1.8m from Transport for London (TfL) to progress plans to transform New Road (the A1306) in South Hornchurch.
Subject to TfL approvals of the final design, further funding will be released to help deliver the scheme.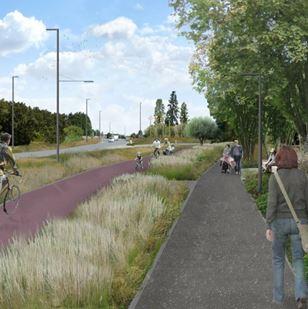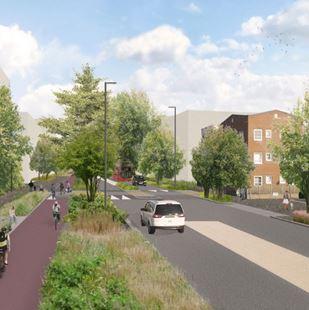 Even though the new A13 was built almost twenty years ago, New Road still retains the look and feel of its old function as a trunk road.
Whilst it is already a single carriageway east of Cherry Tree Lane, to the west of this junction it remains a dual carriageway.
This creates an unpleasant environment that is dominated by the road and has road safety issues.
There is now also a greater awareness of the impact that transport has on well-being, and how encouraging people to walk, cycle and catch public transport more can help to improve health and reduce air pollution.
The funding that is available has given us the unique opportunity to tackle these challenges through an ambitious set of proposals that we have called the Beam Parkway scheme.
Our plans will transform New Road into a greener and more pleasant place to spend time in and live next to, for both existing and future residents.
Scope of the Beam Parkway scheme
The work we are doing is limited to New Road itself, as shown on the plan below.
Although the Beam Parkway scheme will complement the housing developments that make up the Rainham and Beam Park Housing Zone, it is an entirely separate project.
If you are interested in finding out more about the Rainham and Beam Park Housing Zone, please read our Rainham and Beam Park Planning Framework document.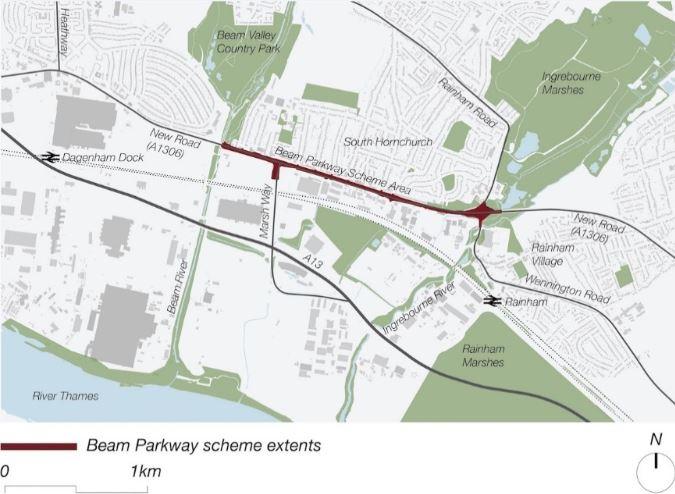 Information about the scheme
We've created some information boards which explain our proposals:
Downloads
Single file including all 14 boards
Board 2: Introduction/Scheme background
Board 3: Scheme objectives/Creating Beam Parkway
Board 4: Traffic, parking and road safety
Board 5: Improving the road for all users
Board 6: How will the scheme look?
Board 8: Scheme plan (1 of 4), including Beam Parklands
Board 9: Scheme plan (2 of 4), including Southview Parade
Board 10: Scheme plan (3 of 4), including Blewitt's Cottages
Board 11: Scheme plan (4 of 4), including Dovers Corner
Board 12: Planting proposals and material palette
Board 13: Beam Parkway timeline/Have your say
These boards will also be on display at South Hornchurch Library (Rainham Road, Rainham, RM13 7RD) until Saturday 21 July. The library is open Wednesday 10am-4pm, Thursday 2pm-8pm, Friday 10am-4pm and Saturday 10am-4pm.
Have your say
It's very important that we capture your views so that we can take them into account.
We've set up an online questionnaire which you can access at the link below.
It's open until Sunday 22 July 2018, so make sure you respond before then.
As the consultation period has concluded, the questionnaire is now closed
Contact us
If you would prefer a paper copy of the questionnaire or have any other queries, please contact:
Lauren Gee
Telephone: 01708 431784
Email: economic.development@havering.gov.uk